Action Septic Service Inc.

ABOUT YOUR HOME AERATION TREATMENT PLANT

DO'S & DONT'S

        AVOID THESE ITEMS

Do Not put any of the following items in your plant or sewage system.  They will cause serious damage to the plant's biological process and equipment.

Plastic, sanitary napkins, scouring pads, condoms, mop strings, "disposable" diapers, towels, lint, rags, etc.  These items will collect in your plant and require more frequent pumping.

Paints, thinner, chemicals, grease, solvents and sanitizer.  These kill the good bacteria in your plant.

Water softener backwash.  Route to drainage ditch, storm sewer or downspout drainage system.

Heavy plumbing cleaners and toilet bowl freshener hang tabs will also kill off the good bacteria in your plant

         THINGS TO DO

Know the location of your control panel and check periodically for alarm conditions

Keep a record of pumping, inspections, and maintenance

Practice water conservation to reduce the amount of water going into the aeration system

Learn the location of your aeration system, avoid constructing patios, decks, and paved surfaces over your system

Divert roof drains and surface water from your aeration system

Keep sump pump water and house footing drains away from your aeration system

Reduce heavy water usage periods by separating dishwashing and laundry from shower time

If your plant serves as a vacation home or a building in which all occupants will be absent part of the time, the plant should  be left running during your absence.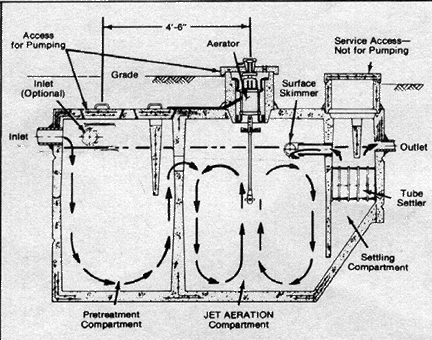 GET TO KNOW YOUR AERATION SYSTEM